LCD High Pressure 30MPA 4500PSI Air Pump Air Compressor PCP Airgun Scuba 110V US

 Application area
Used in diving bottle inflation, car tire inflation, hovercraft inflation, air cushion toy inflation, balloon inflation, etc.
1. Specifications&
Feature
| | |
| --- | --- |
| name | High-pressure air pump |
| model | SG-GYCQB-003-ZD |
| Use voltage | 110V/220V |
| power | 1800W |
| Working pressure | 0 ~ 30MPA, 0-4500PSI |
| preset pressure | 40MPA |
| cooling method | Water cooling + air cooling |
| Inflation speed | 0.13L / min (under 30MP pressure) |
| Up to one charge | 24L |
| Compression method | Secondary compression |
| Lubrication method | Oil splash |
| Working noise | 70db |
| product weight | 17KG |
| Heavy packaging | 18.5KG |
| Product Size | 34cm * 37cm * 18cm |
| Package dimensions | 42 * 38 * 24cm |
2. Features
(1) 1800W copper core motor, strong power, stable and reliable. Equipped with overload protection, the machine will overheat, and the overloaded machine will automatically stop to prevent the machine from being damaged.
(2) The cylinder body is integrally formed with carbon ceramic, which is sturdy and durable, and is matched with a ringless alloy piston. The cylinder has little wear and tear, good air tightness and long service life.
(3) The high-pressure check valve adopts all-copper check valve, which has high temperature resistance and good air tightness. With the explosion-proof valve, the pressure in the machine exceeds 30MPA and the pressure will be automatically relieved, which makes the use of the machine safer.
(4) Pressure setting system: 5MPA ~ 30MPA pressure setting. If the setting pressure is exceeded, the machine will automatically stop.
(5) Inflation speed of 0.13L / min (under 30MP pressure). It takes 8 minutes to fill 1L and 55 minutes to fill 6.8L.
(6) Equipped with external oil-water separator. Digital display of working temperature makes it more convenient to use.
(7) Digital display function: set pressure, digital adjustment. Digital display of actual pressure.
(8) Automatic stop function: When the actual pressure reaches the preset pressure, the machine automatically stops.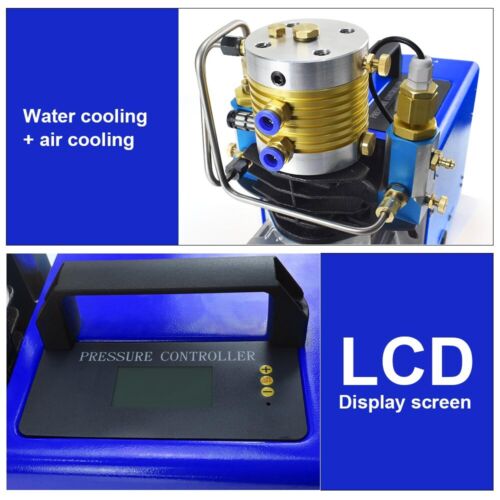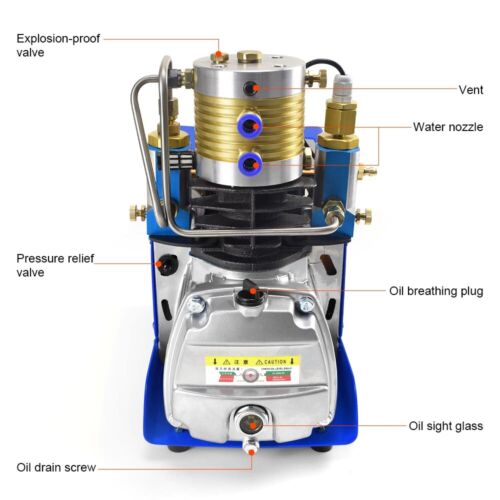 Notice:
1. Please and add lube oil into the compressor, and install(replace) tang breath plug before running the machine. No.46 wear resistant hydraulic oil.
2. The machine is zero pressure start, before starting, please release the decompression screw. If there is pressure in your cylinder, do not open the valve until the pressure of the machine is equal to or greater than the pressure of the cylinder.
3. When the compressor working, the cooling system must be working at the same time.
4. During working, if the temperature of machine is too high, it will stop working until his temperature returns to normal level. If you want the machine to work long times, please prepare two barrels of 30KG cooling water. When the temperature of the machine reaches 60 degrees Celsius, replace it immediately
5. If the machine vibrates violently, please add pad or towel under the compressor
6. Please remember to pay attention to the level of oil every time before start.
All Products from the factory will be provided for one year warranty after sales and lifetime technical support.
3. Included:
| | |
| --- | --- |
| 1PCS | Inflatable high-pressure pump |
| 1PCS | Water pump |
| 2PCS | Pump hose |
| 1PCS | Water separator |
| 1PCS | hose |
| 2PCS | Pressure relief valve screw |
| 1PCS | Fuel tank breathing filter |
| 1PCS | power cable |
| 2PCS | O-ring (spare) |
| 1PCS | Explosion-proof valve (standby) |
---