60W 110V Rework Soldering Station Iron Kit Variable Temperature Desoldering Stand
Soldering iron station is used in the maintenance of internal circuit boards of electronic equipment, household appliances, instruments, mobile phones and watches.It is also perfect for PCB / SMD / SMT welding, DIY hobbies,factory production.
Specification
Power:60W
Voltage:110V  
Temperature range:200-530°C(392-986℉)
Product weight:1kg
Soldering iron tip voltage:<5mv
Phase number:Single phase
Color:Blue
Material:Electric soldering iron with plastic handle
Product size:31cm * 15cm * 13.5 cm
Voltage adjustment range:Not adjustable
Benefits for you
【Precision temperature control】The temperature adjustment adopts the latest and advanced temperature control circuit to ensure accurate temperature control.
【Working indicator】This product are added a working indicator to the soldering iron handle, users can see the working status of the soldering station to avoid being burned by the high temperature.
【Long service life】The heating core is made of high quality and durable materials, with long service life.
【Material】The steel cylinder is made of high-strength 304 stainless steel.
【60W high power】The output power of the electric soldering iron is up to 60W, which can be used to disassemble large solder joints and has a wider application range.
【Temperature adjustable】The electric welding station heats up quickly. Adjustable temperature range: 200-530°C(392-986℉)
【Comfortable grip】The handle is made of environment-friendly and temperature-resistant materials. The handle and the heating tube are equipped with high-temperature isolation rings to effectively block the transfer of heat, avoid scald damage, and improve comfort.
【Three-core power cord】The machine is equipped with a three-core power cord and plug which meets safety standards. Its safety ground wire and the anti-static line in the machine are perfectly interlinked to ensure anti-static and protect the safety of the operator.
Technical Support
All Products from the factory will be provided for one year warranty after sales and lifetime technical support.
Shipping List
1PCS Soldering Station
1PCS High temperature cleaning sponge
1PCS YH-08B(cleaning ball with rosin)
1PCS Tin wire rack
1PCS Instruction manual
1PCS Tweezers
1PCS Desoldering pump
5PCS Soldering iron tip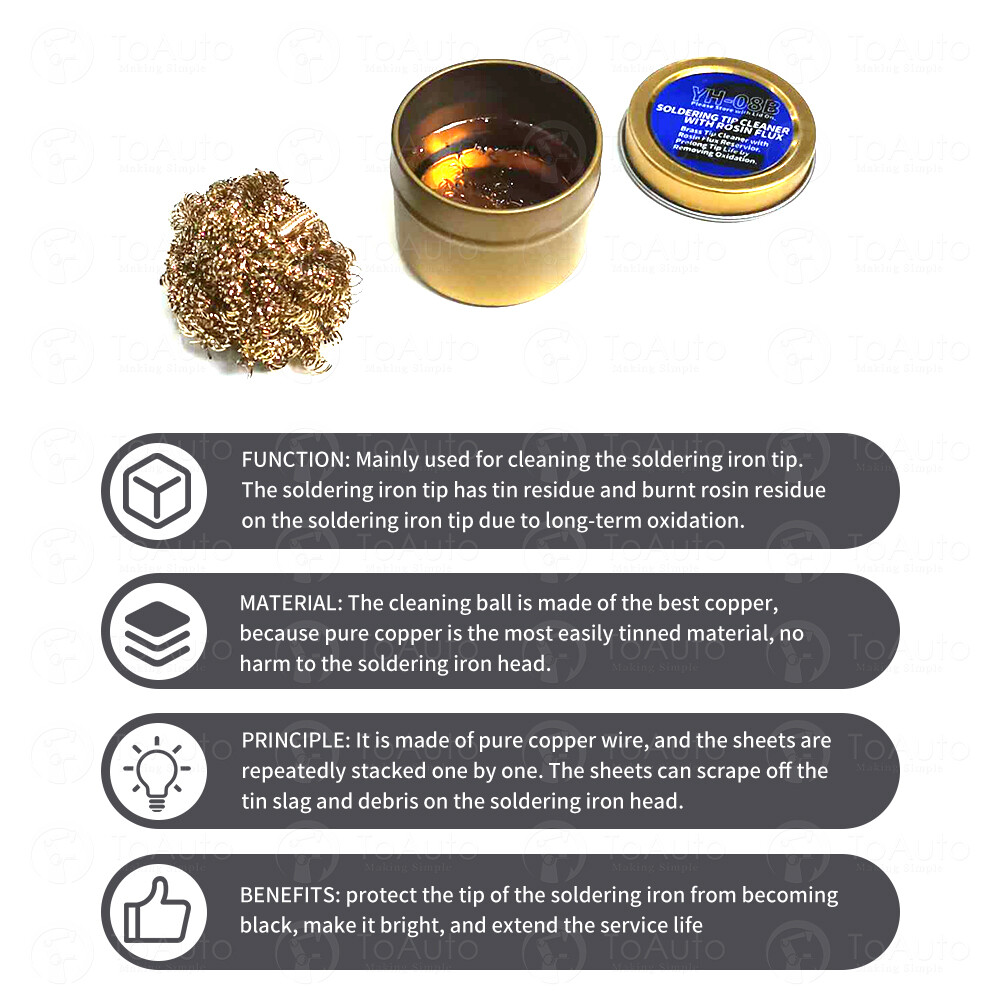 ---